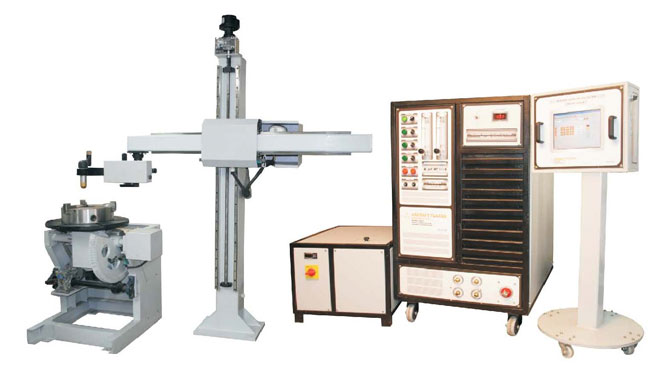 Descriptions:
Plasma Transferred Arc (PTA) System is a high energy, inert gas welding process.

Argon is basically used for arc plasma supply, powder transport and molten material shielding. It produces a very high quality deposit offering optimal protection with minimal dilution or deformation of the base material.

It is a process that deposits very precise coatings of perfectly controlled alloys on mechanical parts that are subject to intense wear; significantly extending their service life.

PTA technology is particularly effective in protection against corrosion, thermal shock and abrasion.

A wide range of overlay alloys is available for practically any part.

Some alloys are very hard; others are softer with hard abrasion-resistant particles dispersed in a matrix. Certain alloys are made to rebuild a part of required dimension while others are designed to be a final overlay that protects the work surface.

PTA Units

system consist of Power Source, Water Chiller, Powder Feeder, Oscillator, Welding Positioner, Controller, Column and Boom, Torch.
| | | |
| --- | --- | --- |
| | | |
| Power Source | Water Chiller / Recirculator | Powder Feeder |
| | | |
| PTA Torch | Weaver (Welding Oscillator) | Column & Boom |
| | | |
| Process Control Panel | Welding Positioner | |
Check out our Manufactured PTA Machines benefits, applications, specifications and scope of supply

Features
IGBT inverter based with analog/digital controls & integrated HF arcing system that tremendously increases its efficiency and switching characteristic
Low Power Consumption – Optimized design of ferrite core transformer with high quality CRGO (Cold Rolled Grain Oriented) laminations to ensure low power consumption at 100% duty cycle
Excellent Power Factor – Power factor correction capacitor ensures Power Factor of 0.85 - 0.90% ensuring lowest power consumption
Stepless Power Control – Power controlled in steps in high capacity machines for extended power saving
Easy Arc Striking – High open circuit voltage to accommodate easy arc striking
Safety against Voltage Fluctuation & Overload – Fully protected power source against voltage fluctuation & overload added with complete safety interlocking for torch protection against air and water failure
Easy to Operate – Easy to operate and maintain torch head for operator's convenience
High Cutting Capacity – Highly improved torch design offers higher cutting capacity at low power output
Long Life of Consumables – Torch design guarantees long life of consumables viz. electrode and nozzle
Dross Free Cuts – Almost vertical, dross free cuts with minimum kerfs width
Long Cable Length – Standard Torch cable length of 7 meters with option to extend up to 30 meters
Applications

In a competition with laser surfacing the PTA technology offers much more high productivity, comparable high quality of deposits and significantly lower costs. Typical application areas of the PTA technology are:
Extruding machine screws
Valves
Valve Seats of internal combustion engines (motorcar, marine, locomotive etc.)
Accessories for ships, petroleum chemistry and power generation
Cutting tools (milling cutters, broaches, knifes)
Equipment for mining, crushing, rolling, road building and tunneling
Process equipment in ceramics and cement production
Moulds and forging dies
Pulp and paper industry equipment
Agricultural equipment
Parts for nuclear plants
Specifications
Technical Specifications of PTA System
| | | |
| --- | --- | --- |
| Model | PTA 200 | PTA 400 |
| Input | | |
| Input Supply | 415VAC/50-60Hz/3-Phase | 415VAC/50-60Hz/3-Phase |
| Max Installed Power | 11Hp | 24Hp |
| Input kVA @ 60% Duty Cycle | 9.7 | 19.4 |
| Input kVA @ 100% Duty Cycle | 7.5 | 14.9 |
| Output | | |
| Open Circuit Voltage OCV | 75-85 V DC | 75-85 V DC |
| Current Range | 20-200A | 20-400 |
| Current @ 60 Duty Cycle | 200A | 400A |
| Current @ 100 Duty Cycle | 155A | 310A |
| Pilot Arc Current | 5 - 40A | 5-40A |
| Plasma Gas Flow Meter | 0 - 5LPM | 0 - 5LPM |
| Shielding Gas Flow Meter | 0 - 10LPM | 0 - 10LPM |
| Current Pre-Setting Facility | Provided | Provided |
| High Frequency Test | Provided | Provided |
| Water Failure Trip | Provided | Provided |
| Gas Failure Trip | Provided | Provided |
| Digital Ammeter & Digital Voltmeter | Provided | Provided |
| OCV Test | Provided | Provided |

Summary:
P.T.A. Deposit shows the following characteristics:
Reduces Cost – Restoring a worn part to "as new" condition generally costs between 20-70% of a brand new replacement part
Prolongs Equipment Life – Service life increases of 3 to 10 times are common with properly overlaid parts
Reduces Downtime – Parts last longer and fewer shutdowns are required
Less Spare Parts Inventory – There is no need to keep numerous spare parts when worn parts can be rebuilt
An attractive bead with no signs of oxidation and with little or no ripple
Very low dilution
High, density, no porosity & no inclusions
Micro-photos or x-rays show the deposits to be of high density & metallurgically bonded to the Substrate
Scope of supply includes:
Inverter Power Source (Make: Lincoln Electric)
PTA OD Torch Head 350 Amp with 4 mtr Cable
Water Chiller cum Re-Circulator
Powder Feeder Positive Displacement
Digital Oscillator
Welding Positioner
Column & Boom
Controller for Hardfacing System
Idler
Consumables