The Bore Welding / Cladding Machine is a rugged weld head for high-production ID cladding applications using the MIG process. It is intended for small-diameter ID cladding and ID welding.
We are the manufacturer, supplier and exporter of Bore Welding / Cladding machine.

Descriptions:
The latest in bore welder advancement. Our system surpasses current bore welder technology.
The control panel guides the user step by step through the various modes available; Circular weld and Spiral weld.
The Bore welder is a full function MIG system for ID or OD weld build up, it utilizes step technology, and it works with a wide array of wire. Its extensive bore range of 50mm and above gives this machine more range than any other.
The machine is rated at 500 Amp, allowing to use standard 0.8 to 2.5mm wire for extended run times. It is capable of running many types of wire including solid, flux core, stainless, inconel and aluminum bronze.
Bore Welder Unit:



Power Source

Wire Feeder

Water Chiller

Control Panel

Rollers

Torch

Torch Traveler
Features:
Control Panel – Simplified Control Panel
Step Over – Automatic Step over system
Program Stop – Program stop on number of bands
Welding source – 450 Amp MIG / MAG (Lincoln Electric)
Wire Feeder – Wire Feeder (Lincoln Electric). Runs solid, flux core, SS, inconel & aluminum wires
Highly Equipped – Unit is equipped to weld 0.8mm to 2.5mm wires
Torch – Up to 4000mm Torch Stroke. Torches available for cladding or groove welding applications. Water cooled torch.
Torch Traveller – Horizontal stroke – 500 to 4000mm, Vertical stroke – 250 to 1000mm
Minimum ID Welding – 50mm
Idler / Roller support
Water Chiller – Water chilling equipment for cooling the torch and improving the consumable life
Clockwise & counter clockwise rotation
Circular and Spiral Welding
Wire feeder mounted over boom
Aluminum rack-and-gear drive for consistent travel speeds in linear positions (no friction drives)
Options available: TIG, PTA Process
Applications:
ID and OD of Drill pipes
ID of valves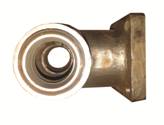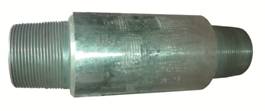 Specifications:
Power Source
Input Supply: 415 VAC / 50 - 60 Hz / 3 Phase / 4 Wire
Output OCV: 16 - 39 V
Welding Current: 50 - 500 Amp DC
Wire Feeder
Wire Size (mm): 0.8, 1.2, 1.6, 1.8, 2.5
Wire Type: Solid & Flux cored
Speed: 1.5 - 22 Mtr / Min
Type: Positive Displacement
Water Chiller – Re-circulator
Flow Rate: 5 LPM
Outlet Temperature: 10 - 30 Deg. C
Tank Capacity: 25 / 50 Liters
Capacity: 1 Ton
Controller
Display: Alpha numeric LCD
Keypad: Membrane
Programs: Circular & Spiral Full function timer based for fully automatic operation
Rollers
Weight Capacity: 500 / 1000 / 1500 / 2000 / 2500 Kg
Surface Speed: 100 mm / min to 1000 mm / min
Rotation: Clockwise, Counter clockwise
Torch
Current Capacity: 500 Amp
Cooling: Water cooled
Minimum pipe dia: 50mm
Torch Traveller
Horizontal Stroke: 500 / 1000 / 2000 / 3000 / 4000 mm
Vertical Stroke: 250 / 500 / 750 / 1000 mm
Job Dia: 50 mm to 1000 mm
Auto Stepover: 0 - 99 ± 1 mm
ID CLADDING / BORE WELDING WITH GTAW PROCESS
SPECIFICATIONS:-
| | |
| --- | --- |
| Parameters | ID Torch (GTAW) |
| Current capacity | 150 Amps |
| Cooling | Water Cooled |
| Minimum ID | 38mm (After deposition) |
| Maximum length | 1000mm |
| Deposition thickness in single pass | 4mm approx. |
| Deposition width in single pass | 8mm approx. |
| Duty Cycle | 100% |